..../---/.--./. (Hope)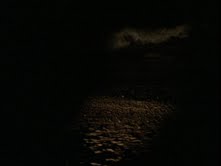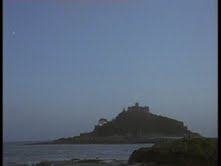 November 2009.
A pair of videos, transferred from 16mm film, St Michael's Mount, Cornwall. From one we look out to the Mount at sunset and from the other we see a Morse code message being sent out to sea with light.
For Chateau D'If exhibition, Shoreditch Town Hall, London.
This piece was conceived for Chateau D'If, an exhibition inspired by Alexandre Dumas's classic novel The Count of Monte-Cristo, which tells the story of the an innocent man's 14-year imprisonment.
sometimes [...] in my voyages, when I was a man and commanded other men, I have seen the heavens become overcast, the sea rage and foam, the storm arise, and, like a monstrous bird, cover the sky with its wings. Then I felt that my vessel was a vain refuge that trembled and shook before the tempest. Soon the fury of the waves, and the sight of the sharp rocks, announced the approach of death, and death terrified me, and I used all my skill and intelligence as a man and a sailor to escape.
—The character Dantes, whilst imprisoned.
We took as a starting point the allusion to finding hope when there is no hope, a fleeting light in the darkness. Through communicating with beacon lights a message may be lost as quickly as it comes into existence, a flash for a second and it is gone. We wanted to create a narrative with two films, viewed simultaneously, that would evoke a relationship between Island and Mainland and of Dantes isolation and captivity on the Island prison. Recalling Dante's character is the translation of the text, and transmitting this in a Morse code message with light out to sea. The communication travels out across the sea to be noticed by anyone who glimpses our simple flashing light. In the first film it is sunset as we look out to Island from the coast, and in the second we can see the waves hitting the shore through as the light flashes on and off, reflecting hope being sent through the darkness.